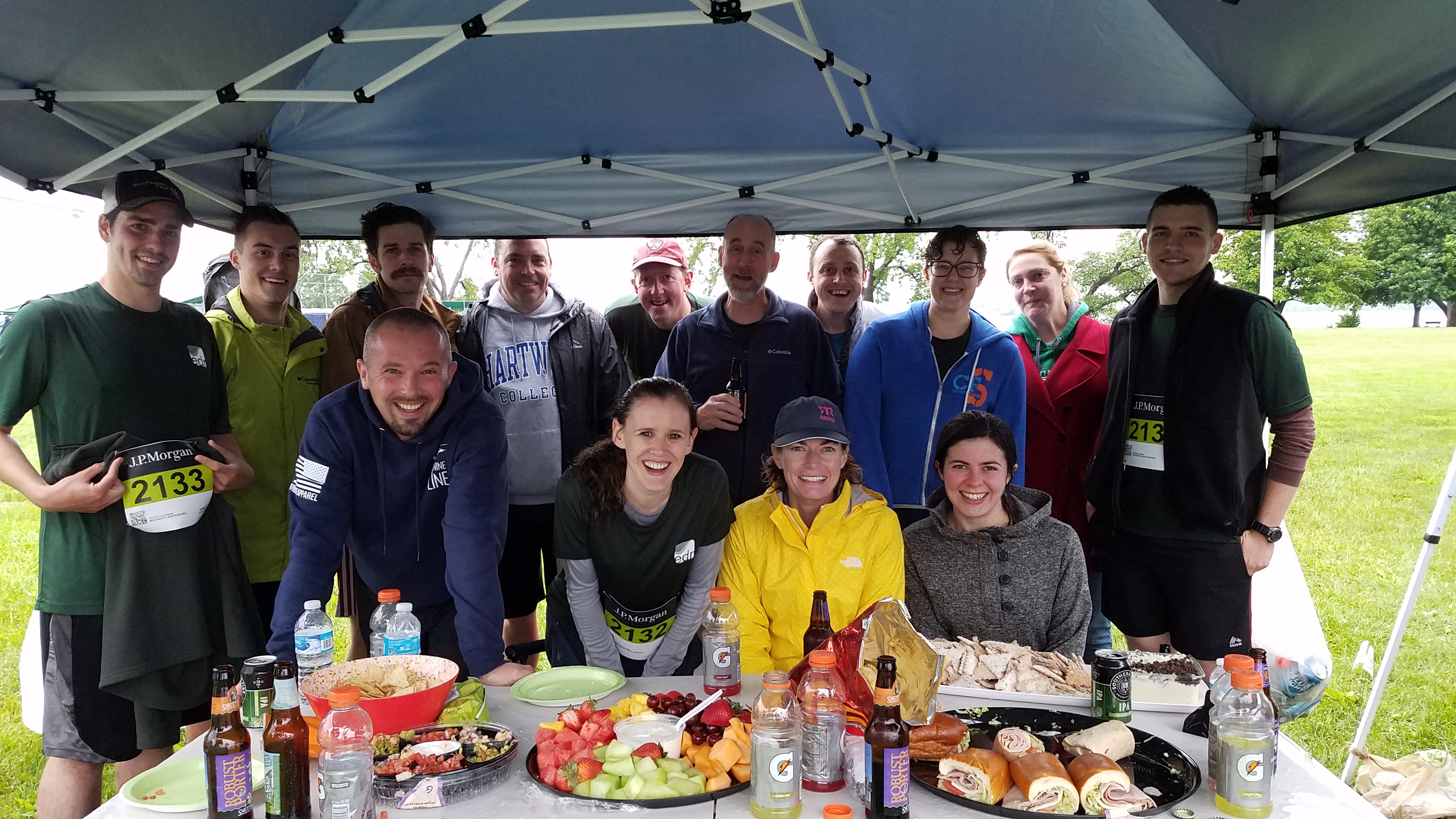 On June 6, 2017, approximately 8,000 runners and walkers from 307 companies (including EDR) helped Syracuse stage its 35th JP Morgan Corporate Challenge.  The event is one of 13 such races worldwide to encourage health and fitness, foster workplace camaraderie, and show commitment to the community.
The weather was decidedly un-summerlike, with wind chills in the 40's and persistent rain, but EDR's heartiest staff braved the conditions and had a great evening of running and socializing.  We missed a few of our key participants from years past, such as John "it's breeding bird season" Wojcikiewicz, Ben "Article 10" Brazell, Barry "I'd rather fly my drone" Masterson, Jane "I'm going to a concert" Rice, and Dan "I forgot my umbrella" Barbato.  But the rest of us enjoyed the extra food and beverages while huddled under the tent sharing stories from the course.
This year's EDR participants included:
Vernon "the stache" Zoekler
Lindsay "I'm not cold" Dressel
Shelby "zig zag" Zemken
Caitlin "muddy sneakers" Graff
Erica "the flying cannoli" Tauzer
John "let's do the Boilermaker" Hecklau
Gordon "always the photographer" Perkins
Jake "I'm not a walker anymore" Runner
Steve "studio is here" Brietzka
Emily "I can't see" Stephan
Russ "I've been wet for 8 hours" Farchione
Patrick "I miss Jake" Heaton
Kristina "more cowbell" Garenani
Team results are posted here.
Great job everyone!
---
For More Information
Caitlin Graff | Project Manager (and EDR Running Team Captain)
[email protected]