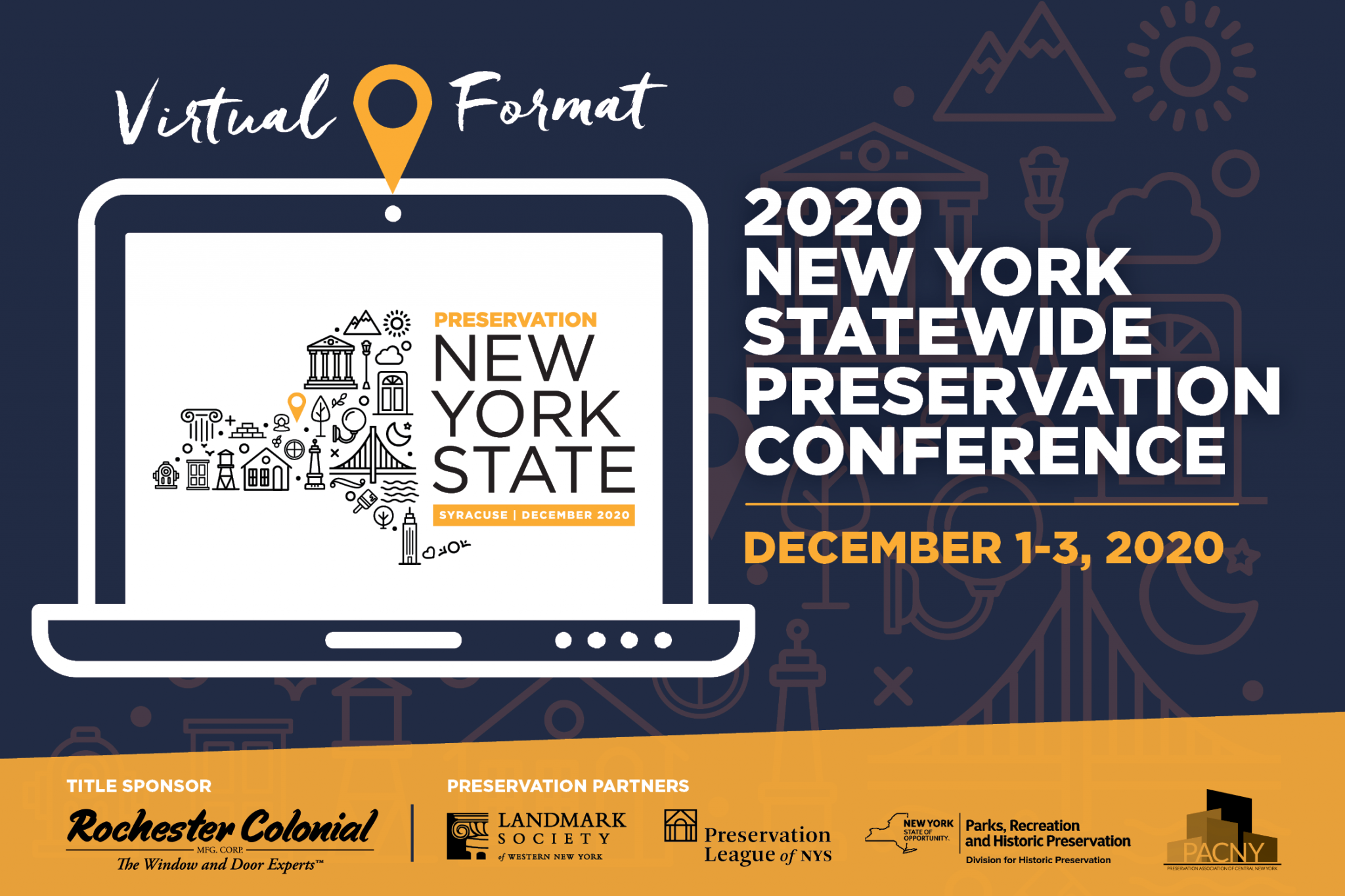 The 2020 New York Statewide Preservation Conference was held online on December 1-3, 2020.  Originally scheduled for May of 2020 in EDR's home city of Syracuse, NY, the conference was rescheduled as an online event due to the COVID-19 pandemic.  EDR is pleased to have served as the "Opening Plenary" sponsor and congratulates the Landmark Society of Western New York, Preservation League of New York State, New York State Office of Parks, Recreation and Historic Preservation, and the Preservation Association of Central New York on an excellent and informative conference.
In addition, EDR staff organized and served as panelists for a conference session entitled Renewable Energy and Historic Preservation: Impacts and Opportunities. Participants in this panel discussion included:
Patrick Heaton, Principal, Cultural Resources, EDR
John Bonafide, Director, Technical Preservation Services, New York State Division for Historic Preservation
Susan Lawson, Historic Preservation Project Manager, EDR
Jennifer Ahrens, Principal, Bero Architecture, PLLC
This session resulted in a discussion of the unexpected benefits for historic properties that have resulted from the evaluation of potential impacts to cultural resources during permitting reviews or wind and solar energy projects in New York. The abstract (or summary) for this conference session reads:
New York State policies and incentives are currently driving renewable energy development on an unprecedented scale throughout the state. Many renewable energy projects have been built or are being proposed in rural areas, where historical organizations and/or stewards of historic properties face financial challenges and/or limited support. A perhaps unexpected and misunderstood aspect of environmental permitting and review for energy projects is the potential for offset funding for cultural resources mitigation, which typically includes direct benefits to local historic properties and/or historical organizations. This type of mitigation is providing an important source of funding for the preservation/stewardship of historic resources in economically challenged rural areas.  This panel discussion described the process and examples of cultural resources mitigation projects related to renewable energy projects in New York State.
The panel discussion explored how cultural resources surveys and management in the context of environmental permitting and review is an important component of professional practice for many historic preservation practitioners but is relatively underrepresented as a topic or focus of discussion within professional historic preservation discourse.  In addition, the intersection of renewable energy and other sustainability objectives with historic properties/preservation (in general) is a timely and important issue for the profession. Many renewable energy projects are being proposed in rural areas with declining agricultural economies.  These areas are often rich with historic resources, but frequently lack the economic and demographic base necessary to support the preservation of those resources. Mitigation, or offset funding, resulting from renewable energy development has resulted in a perhaps unexpected source of funding and support for local historic groups/properties that are otherwise underrepresented in terms of attention from the preservation community.  Our panelists represented diverse perspectives (State Historic Preservation Office staff, preservation architects, cultural resources consultants) on this compelling and perhaps relatively unknown aspect of current historic preservation practice within the state.
For More Information:
Patrick Heaton, Principal, Cultural Resources & GIS Services | [email protected]
Susan Lawson, Project Manager | [email protected]