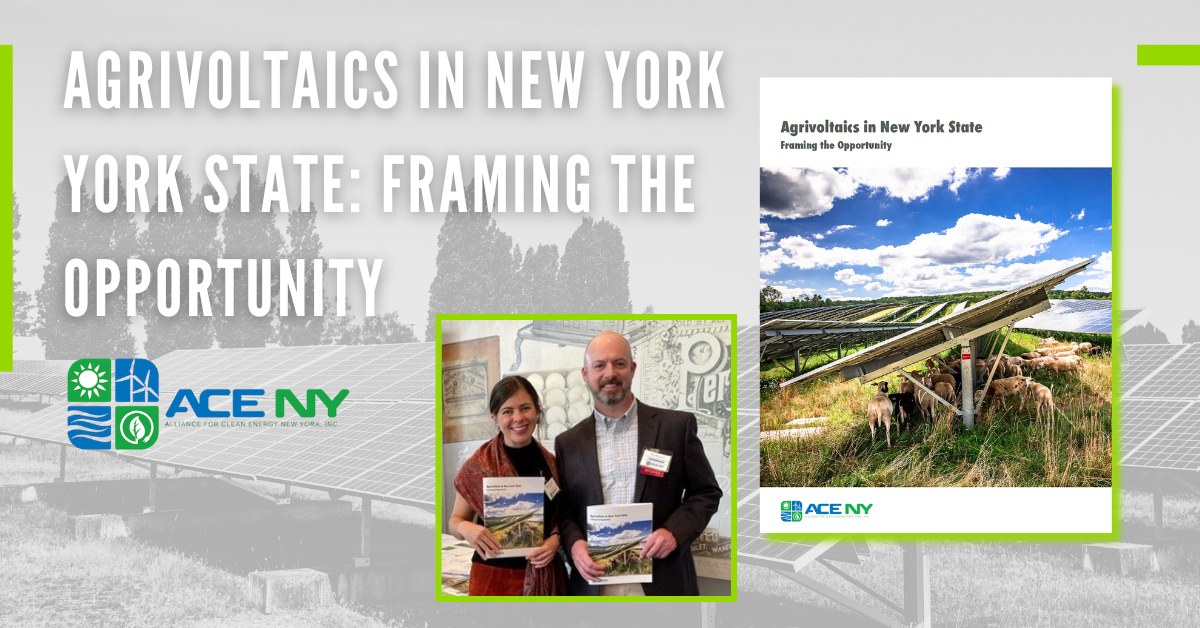 Congratulations to the Alliance for Clean Energy New York (ACENY) on the recent publication of Agrivoltaics in New York State: Framing the Opportunity, a planning study authored by EDR that explores the possibilities and benefits of agrivoltaics in New York. Agrivoltaics is the practice of combining solar energy production with agriculture, allowing these two vital industries to coexist in a mutually beneficial manner. This land use strategy supports individual farmers, minimizes potential impacts to farmland while preserving its productivity, boosts economic development, improves public health, and reduces air pollution. Agrivoltaics is an evolving area of research and policy that holds tremendous promise for promoting clean, renewable electricity technologies and sustainable land use. 
The newly released report, generated over the winter, spring, and summer of 2023, is the result of extensive collaboration and research. ACENY and EDR worked closely to coordinate a series of six interactive virtual working sessions, attended by ACE NY members and informed by input from Young/Sommer LLC and the New York State Energy Research and Development Authority (NYSERDA). 
During these working sessions, participants explored the challenges and opportunities associated with agrivoltaics development, permitting trends at both large and small scales, as well as the latest research, incentives, and education initiatives in New York State. 
The report, designed as a resource for ACE NY members and other stakeholders, summarizes and reviews relevant planning studies, academic research, stakeholder input, and best practices for agrivoltaic development in New York. The report includes discussions of how local communities can engage with agrivoltaics, siting and design practices, construction, operations and maintenance, decommissioning, and permitting. Case studies are presented regarding the synergies between solar development and sheep grazing, crop production, and dairying.  An important area of emphasis is the need for continued study and dialog to align with evolving best practices, policies, research, and program development. This commitment to staying current ensures that agrivoltaics will remain at the forefront of New York's clean energy initiatives. 
The mission of ACE NY is to promote clean, renewable electricity technologies and energy efficiency in New York to increase energy diversity and security, boost economic development, improve public health, and reduce air pollution. 
Founded in 1979, EDR is a certified Woman-Owned Business (WBE) dedicated to creating and sustaining a better environment for our clients, employees, and communities — and doing so with integrity, a collaborative approach, and a genuine passion. EDR is comprised of a diverse group of environmental professionals, including ecologists, botanists, wildlife biologists, GIS specialists, archaeologists, historians, visualization specialists, planners, landscape architects, and engineers. EDR has been providing strategic environmental permitting services for energy generation and transmission projects throughout the Northeastern, Midwestern, and Mid-Atlantic United States for more than 25 years. 
---
For More Information
Ben Brazell | Principal, Environmental Services
[email protected]