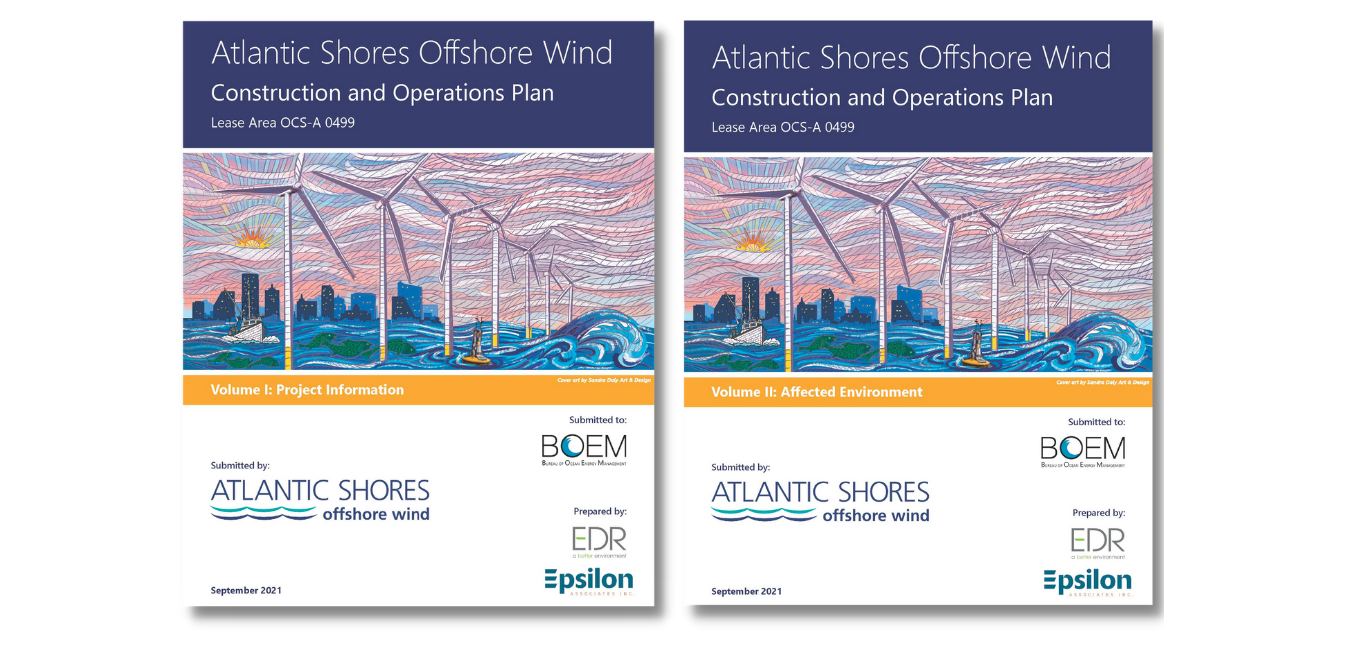 EDR congratulates the Atlantic Shores Offshore Wind Team on the announcement from the U.S. Bureau of Ocean Energy Management (BOEM) issuing the Notice of Intent (NOI) in the Federal Register to prepare an Environmental Impact Statement (EIS) for the review of the Atlantic Shores Construction and Operations Plan (COP). The Projects include developing two offshore wind energy generation Projects within the southern portion of Lease Area OCS-A 0499.
EDR is the lead environmental consultant for the Atlantic Shores COP and is proud of the team for reaching this important milestone for the offshore wind industry.
"Effective collaboration between EDR and the Atlantic Shores technical and development teams resulted in a strong, complete, and sufficient COP," noted Chris Rein, EDR's Executive Manager for Offshore Wind. "This announcement coming just six months following the submittal of the COP is indicative of the quality of the submittal and BOEM's commitment to efficient critical review and timely resolution of comments"
Once approved, the Atlantic Shores Projects will help the U.S. and New Jersey achieve their renewable energy goals, diversify New Jersey's electricity supply, increase electricity reliability, and reduce greenhouse gas emissions. In addition to the positive environmental and health benefits for the community, the Projects will also have a positive economic impact with substantial new employment opportunities.
"The release of the Atlantic Shores Offshore Wind COP is a significant step forward for our client but also represents a proud moment for EDR," said Patrick Heaton, EDR's Principal overseeing the project. "Our company and staff are invigorated by the challenges of working in an emerging industry and thrilled to be part of the Atlantic Shores project."
The Atlantic Shores project team was led by EDR's in-house experienced subject matter experts, supported by Epsilon Associates and industry-leading specialty consulting firms Baird, Biodiversity Research Institute, Capitol Airspace Group, Jasco Applied Sciences, Normandeau Associates, R.C. Goodwin & Associates, RPS Group, and SNC-Lavalin.
Founded in 1979, EDR is a certified Woman-Owned Business (WBE) dedicated to creating and sustaining a better environment for our clients, employees, and communities. The EDR team is committed to integrity, a collaborative approach, and a genuine passion for our craft. The EDR team is a diverse group of environmental professionals, including ecologists, botanists, wildlife biologists, GIS specialists, archaeologists, historians, visualization specialists, planners, landscape architects, and engineers.
---
For More Information
Jody Lima | Sr. Project Manager Mid-Atlantic Environmental Practice Leader
[email protected]