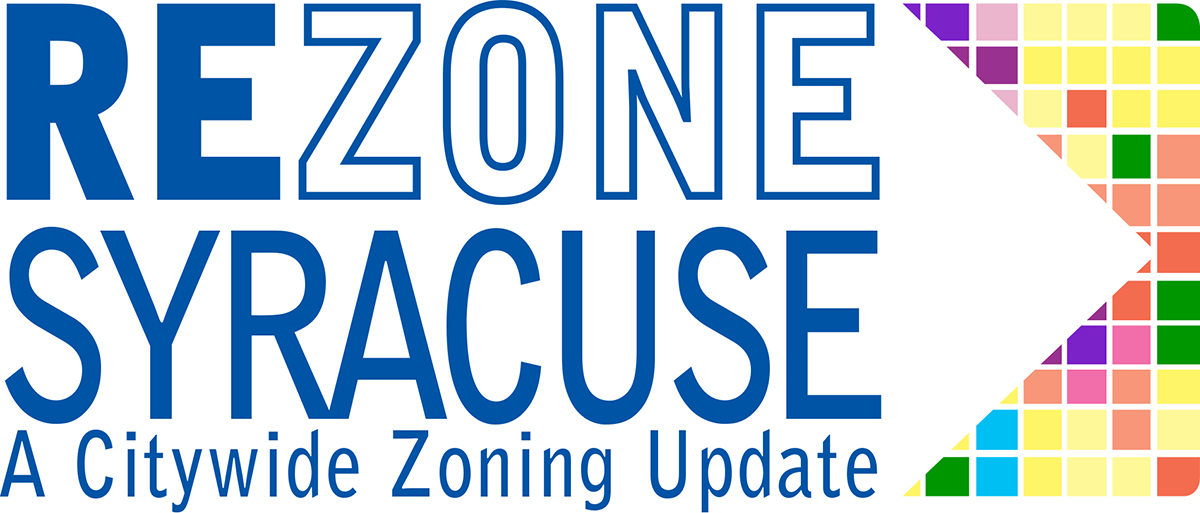 Congratulations to the City of Syracuse on the successful adoption of the ReZone Syracuse Citywide Zoning Update! This significant achievement marks a pivotal moment in shaping future development within the city and ensuring a more sustainable and vibrant community for all.
The adoption of ReZone represents the culmination of a comprehensive effort to modernize the City's zoning in line with the Comprehensive Plan 2040. Transitioning to a framework that incorporates Form-Based Codes and Smart Growth principles, the project promotes efficient, socially, and environmentally conscious land use practices. Additionally, the adoption of the ReZone Syracuse Citywide Zoning Update demonstrates Syracuse's commitment to enhancing urban design standards, including areas like urban agriculture, lighting, signage, landscaping, parking, site design, infill development, affordable housing, and vacant land management. These efforts aim to create a visually appealing and livable cityscape while preserving the city's rich heritage through historic preservation initiatives.
Moreover, the project incorporates sustainable development provisions such as climate adaptation, renewable energy infrastructure, green building standards, and green infrastructure, showcasing Syracuse's dedication to a greener and more resilient future. By streamlining the development review process, simplifying the zoning code, and fostering increased public awareness and participation, the project ensures a more transparent and inclusive decision-making process. Leveraging technology further empowers the community by facilitating communication and engagement, allowing residents to actively contribute to shaping the city's future. Lastly, Syracuse is the first large Upstate city to require affordable housing for projects with 20 or more units.
Commenting on the significant impact of the adoption of the new zoning plan, Sam Gordon, EDR Community Planning Practice Leader said, "Adoption of ReZone comes at an opportune moment, with all that is on the horizon of the city, now, more than ever it is critical for the city to have a framework that not only will continue the revitalization work but continue to expand the potential for the City and everyone who lives in, works in, learns in, and visits it."
EDR is proud to be part of the team that helped the city bring its vision to reality by leading the update of the zoning map, participating in public engagement and education, implementing character area recommendations (noted in the municipal land use plan), and drafting the landscape standards section of the new ordinance.
---
For More Information
Sam Gordon | Planning Practice Leader
[email protected]