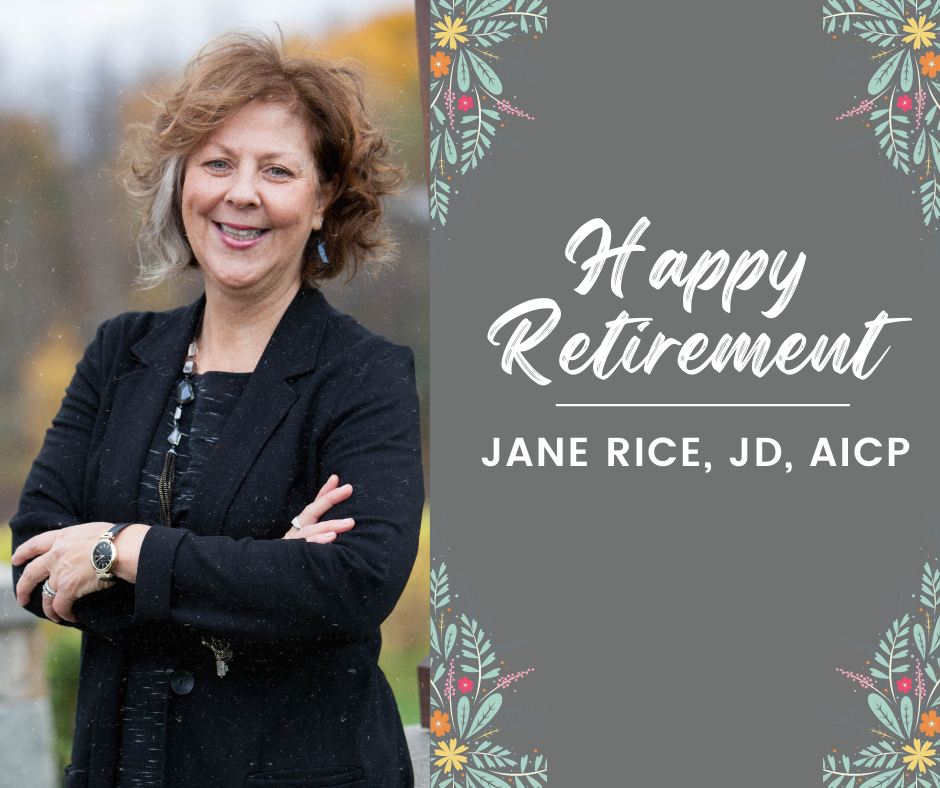 EDR is announcing that Jane Rice, Principal in Charge of Community Planning will retire effective March 31, 2022.
Jane has been an important part of our firm for 17 years, having served as the Principal in Charge of planning since 2014. The Planning group, in collaboration with all the practice areas within EDR, has produced work that has transformed communities throughout the region, under Jane's leadership. Of the hundreds of local and regional community plans (comprehensive plans, waterfront plans, zoning regulations, and a variety of local waterfront improvement projects), a few career highlights include developing the comprehensive plan for her own community of Fayetteville, New York; the development of the Riverwalk in Clayton, NY and Alexandria Bay, NY; the removal of a portion of the northern section of the Robert Moses Parkway and transformation of the area into additional parkland and trails along Niagara Gorge, and the anticipated removal of Interstate 81 and revitalization of that downtown area into a multi-modal neighborhood.
In addition to professional accomplishments, Jane has been very active in the community serving on several boards including the New York Upstate American Planning Association Board, Director of the NY Upstate Central New York Section, New York State Planning Federation Board, Onondaga County Planning Federation Board, ESF College Foundation Board, and Fayetteville Planning Board.
"EDR is incredibly grateful to Jane for all of her contributions in helping to build our firm and community planning practice, "said Jo Anne Gagliano, EDR President. "Jane has been a strong leader for EDR, an excellent colleague, and a good friend.  I have enjoyed collaborating with Jane on projects and serving with her on the Village of Fayetteville Planning Board.  On behalf of EDR's Principals and staff, we wish Jane and her family continued success and much happiness as she transitions into her retirement."
In reflection, Jane noted, "Looking back, I'm thankful for many happenings over my 30-year career, but most specifically for the last 17 years at EDR. I have enjoyed all the wonderful opportunities EDR has given me. Although I'm looking forward to this new and exciting chapter in my life, I will undoubtedly miss my colleagues at EDR, most specifically those in the Planning Group. I have enjoyed working alongside some of the most talented professionals in the business and will miss the positive energy and strategic collaboration that happened daily. I specifically want to thank the Planning Group for adding such great value to my experiences. I have learned something valuable from each of you, and I am thankful for all those lessons. The collection of these positive experiences over the last 17 years sets the stage for me to enjoy a better retirement!"
With Jane's retirement, EDR announces Sam Gordon, AICP has been promoted to Planning Practice Area Lead. Sam has been with EDR for the past few years as a Senior Project Manager. Before joining EDR, Sam served as the Director of Planning and Zoning for the Town of DeWitt. Sam is a Certified Planner and has over 20 years of experience in the planning and sustainability fields with a diverse background including neighborhood revitalization, greenway development, sustainability, resiliency, and mobility planning; and has worked in both the public and private sectors; as well as internationally. Sam serves on multiple volunteer boards including the Central New York Chapter of the American Planning Association and FOCUS Greater Syracuse and enjoys giving back to the community.
"I'm extremely humbled to be leading the planning practice at EDR. Jane Rice has been an unbelievable example and mentor, and I want to wish her the best in her much-deserved retirement. I look forward to continuing the record of excellence that Jane has established and continue to help our community partners and clients to succeed in establishing and realizing their visions for community prosperity," said Sam Gordon.
Founded in 1979, EDR is a certified Woman-Owned Business (WBE) dedicated to creating and sustaining a better environment for our clients, employees, and communities — and doing so with integrity, a collaborative approach, and a genuine passion for our craft. EDR is a diverse group of environmental professionals, including ecologists, botanists, wildlife biologists, GIS specialists, archaeologists, historians, visualization specialists, planners, landscape architects, and engineers.