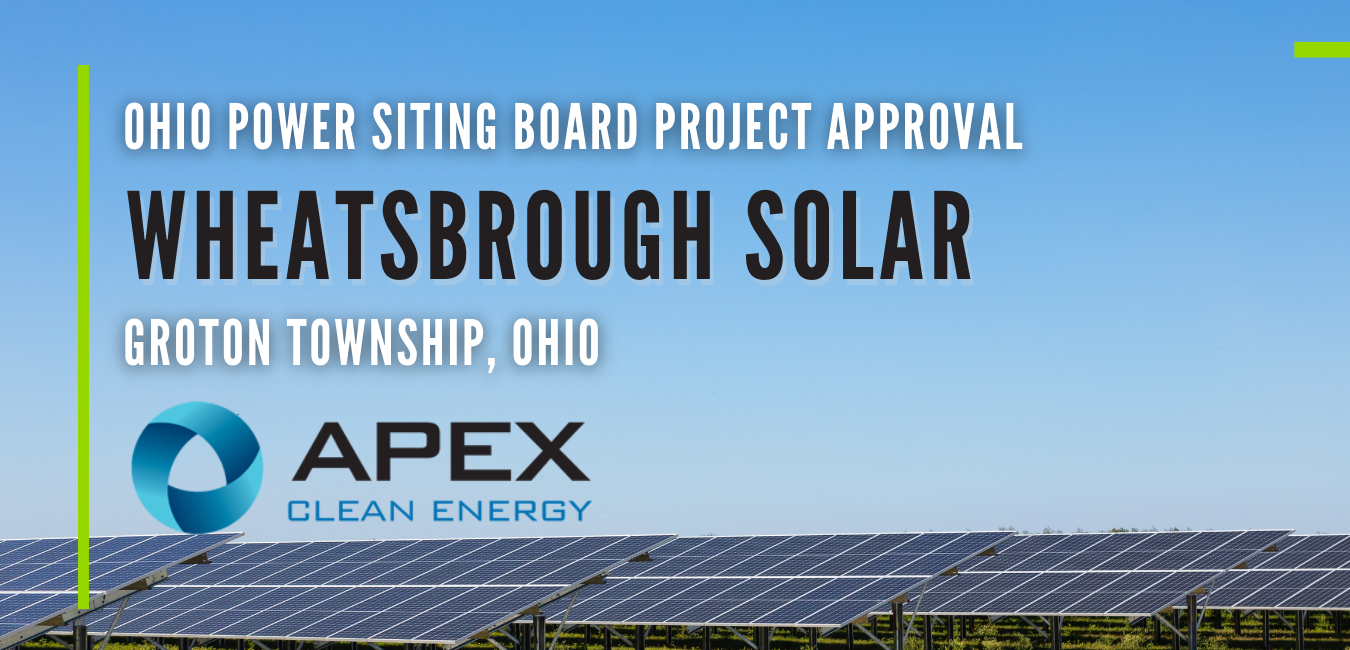 EDR congratulates Apex Clean Energy on the recent Ohio Power Siting Board (OPSB) approval of their Wheatsborough Solar Project in Groton Township, Erie County, Ohio. The 125 megawatt (MW) project, which will consist of solar panel arrays as well as a 50 MW battery energy storage system, will be able to produce enough power to supply over 20,000 households.
The Wheatsborough Solar Project also has the distinction of being the first renewable energy project with associated battery storage approved by the OPSB.
EDR served as the lead environmental permitting consultant for the project and assisted Apex Clean Energy with the following:
–  Prepared the certificate application for submission to the OPSB for review and approval of the proposed facility.-
–  Assessed the potential visual impacts of the facility, including identification of visually sensitive resources, assessment of facility visibility, preparation of visual simulations, and preparation of visual impact mitigation designs.
–  Evaluated the anticipated socioeconomic benefits of the facility, including estimates of construction and operation payroll and employment levels, regional economic impacts, and local taxing district revenue impacts.
–  Assisted Apex Clean Energy with informing the public about facility plans through the development of a project website and hosting the OPSB-required public information meeting.
Founded in 1979, EDR is a certified Woman-Owned Business (WBE) dedicated to creating and sustaining a better environment for our clients, employees, and communities. The EDR team is committed to integrity, a collaborative approach, and a genuine passion for our craft. The EDR team is a diverse group of environmental professionals, including ecologists, botanists, wildlife biologists, GIS specialists, archaeologists, historians, visualization specialists, planners, landscape architects, and engineers.
---
For More Information
Chris Cunningham | Sr. Project Manager, Midwest Practice Leader
[email protected]