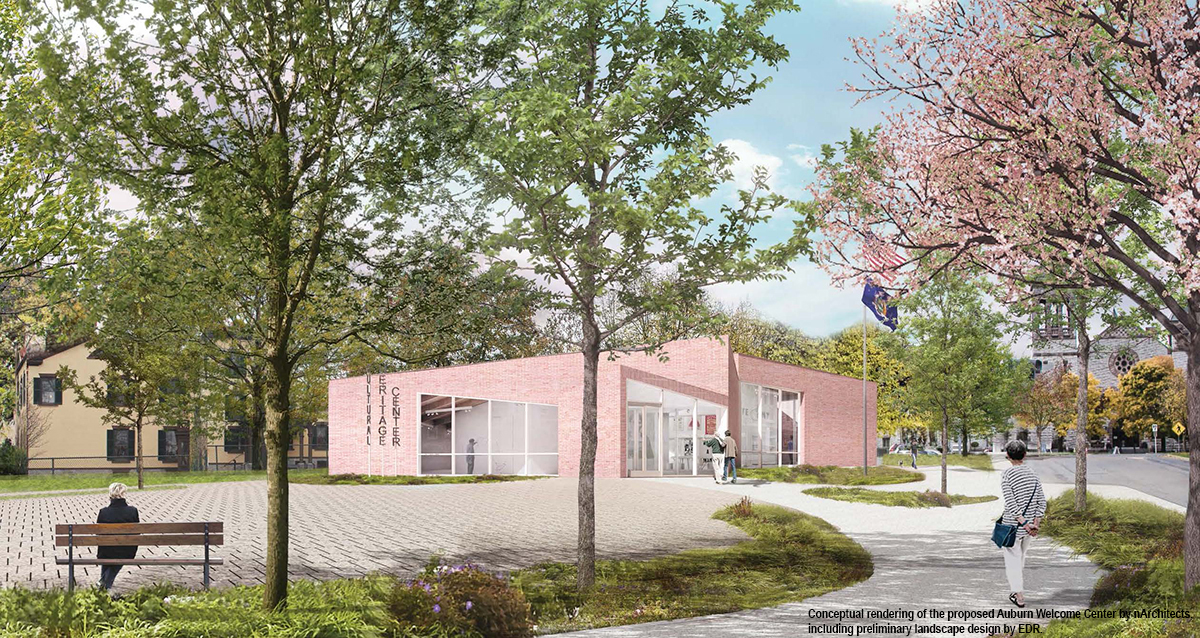 The City of Auburn, in partnership with the New York State Office of Parks, Recreation, and Historic Preservation (NYSOPRHP), unveiled the plans for a new Regional Welcome Center at a public meeting on May 16, 2017.  The welcome center will include exhibitions, a community room, retail space for a Taste NY shop featuring local products, offices, and restrooms.  The exhibitions will feature local and regional sites and historical figures that celebrate the rich heritage of progressive social movements, such as Abolitionism, the Underground Railroad, Women's Suffrage, Labor History, and Equal Rights, in the Central New York and the Finger Lakes regions.
EDR is part of a project team that includes the nArchitects and exhibit designers MTWTF, both based in Brooklyn, New York.  We are taking the lead role on landscape architecture and site design, and our cultural resources group is supporting the development of interpretive materials based on our expertise with local and regional history.  The City, NYSOPRHP, and the Project Team are looking forward to ongoing feedback from the Auburn community as the project advances.
Additional information about the project and public outreach efforts is available at the Project's Website: http://auburnny.gov/Public_Documents/AuburnNY_WelcomeCenter/index.
---
For More Information
Steve Breitzka, RLA | Project Manager
[email protected]