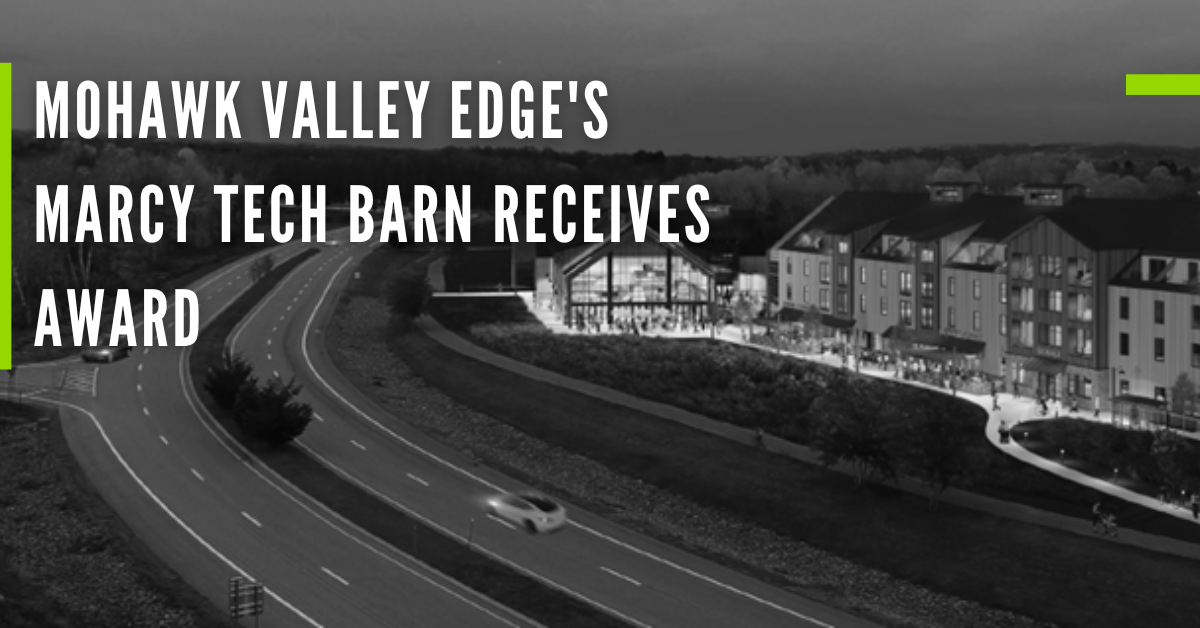 Environmental Design and Research is proud to announce it has been awarded, along with Mohawk Valley Edge, a Best Practice award by the 2022 Professional Awards Program of the New York Upstate Chapter of the American Planning Association for the Marcy Tech Barn.
The Marcy Tech Barn project was initiated by Mohawk Valley Edge (MV EDGE) for property that it controlled adjacent to the Marcy-SUNY Parkway focused on the integration of mixed-used development in order to complement and support new development at the Marcy Nanocenter and SUNY Polytechnic Institute (MNC Campus) in the town of Marcy – only 3 miles from downtown Utica. MV EDGE sought to develop an actionable conceptual masterplan to provide a realistic development scenario, incorporating public and business outreach. Ultimately, this project was intended to shepherd the site through the pre-development process to present a shovel ready site for future development.
"The Tech Barn represents a visionary approach to the development process, underpinned by strong guiding principles." Christian Mercurio, VP Planning & Development of Mohawk Valley EDGE, stated. "The EDR team helped MV EDGE to explore and develop a foundation for future design that responds to the surrounding context and agricultural history, project site constraints, and community concerns."
The award was given by New York Upstate Chapter – American Planning Association, whose mission is to serve and support the professional, student, and citizen planning communities in New York State and to improve the quality of life using planning.
Founded in 1979, EDR is a certified Woman Owned Business (WBE) dedicated to creating and sustaining a better environment for our clients, employees, and communities — and doing so with integrity, a collaborative approach, a genuine passion for our craft — today's EDR is comprised of a diverse group of environmental professionals, including ecologists, botanists, wildlife biologists, GIS specialists, archaeologists, historians, visualization specialists, planners, landscape architects, and engineers.
---
For More Information
Sam Gordon | Planning Practice Leader
[email protected]