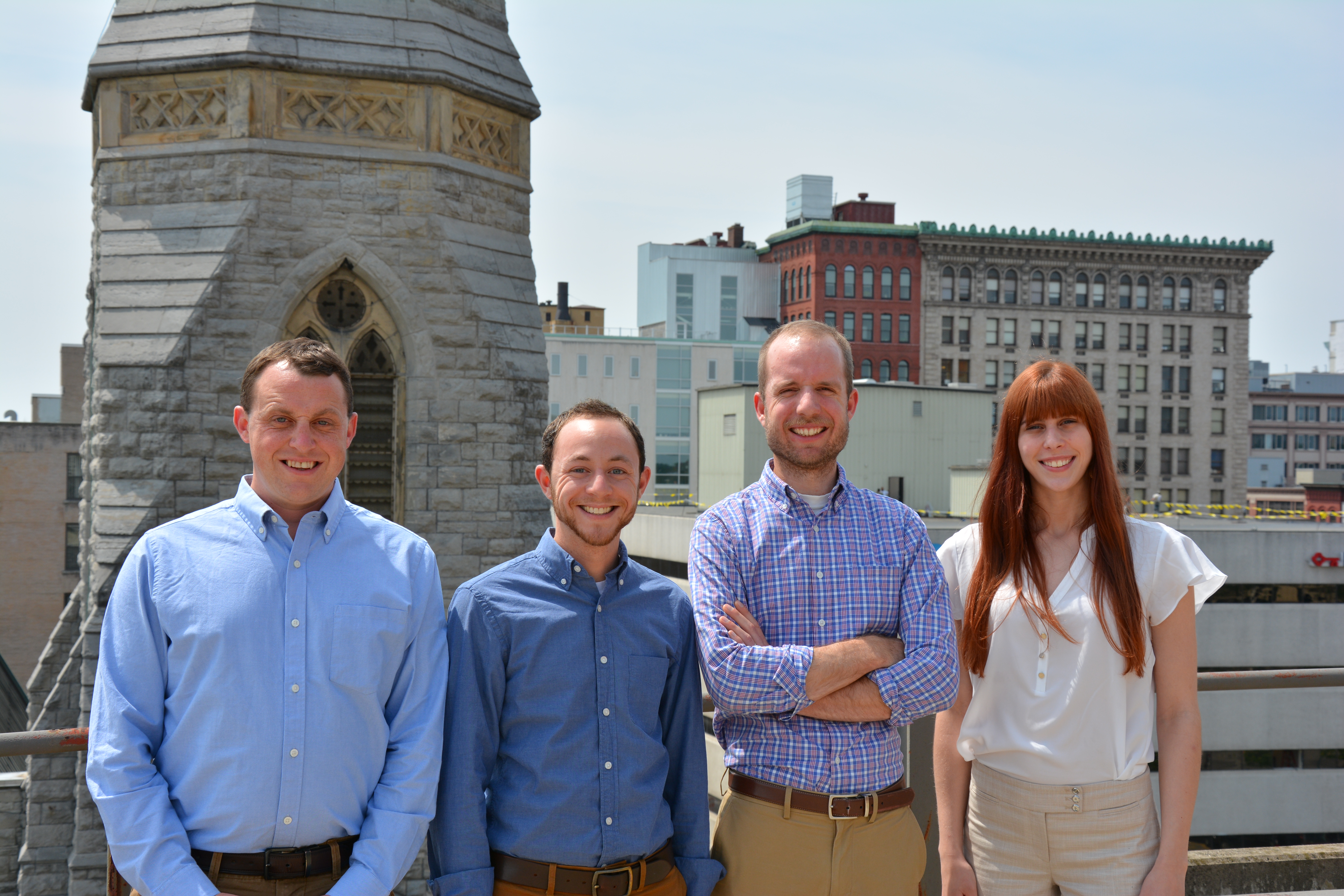 We are very pleased to welcome (pictured above from left to right) Jacob Runner, Ely Margolis, Nicholas Freeland, and Allison Wetherbee to EDR!
Jacob Runner has joined EDR as an Environmental Analyst based in our Syracuse, NY office. Prior to joining EDR, Jacob was a Senior Research Support Specialist at the Thousand Islands Biological Station in Clayton. Jacob's expertise includes ecological and fisheries research and fieldwork and applied use of Geographic Information Systems (GIS). Jacob received a Bachelor of Science in Environmental Science (Environmental Information and Mapping) from SUNY-ESF.
We are very pleased that Ely Margolis has joined EDR on a full-time basis as a Visualization Specialist. Ely recently (May 2015) received his Masters of Landscape Architecture from SUNY-ESF, during which time he worked on a part-time basis with our Visualization group. In addition, while at SUNY-ESF, Ely served as Vice President of Communications for the Graduate Student Association and served as a facilitator for neighborhood meetings with the Center for Community Design and Research. Prior to SUNY-ESF, Ely received a Bachelor's Degree in Anthropology from Binghamton University.
Nicholas Freeland is a Cultural Resources Specialist/Project Archaeologist based in our Syracuse, NY office. Nick has extensive experience conducting archaeological surveys and investigations, with expertise in prehistoric Native American archaeology and lithic (stone tool) analysis. Prior to joining EDR, he worked as an Archaeologist for TRC Environmental Corporation in their Laramie, Wyoming office and for the Wyoming State Historic Preservation Office (SHPO). Nick received his Masters of Arts in Anthropology from the University of Wyoming and a Bachelor's Degree in Anthropology from Hamilton College.
Allison Wetherbee has joined EDR as a Civil Engineer, also in our Syracuse, NY office. Allison recently graduated from Syracuse University with an Environmental Engineering degree and her Senior Year Design Project (a Rain Water Harvesting System for the Carrier Dome) became a reality this past year. Allison will be working in our Planning and Site Design Studio, assisting with projects involving site design and stormwater management.
We are very excited that all of these talented newcomers have joined our team. Welcome aboard!