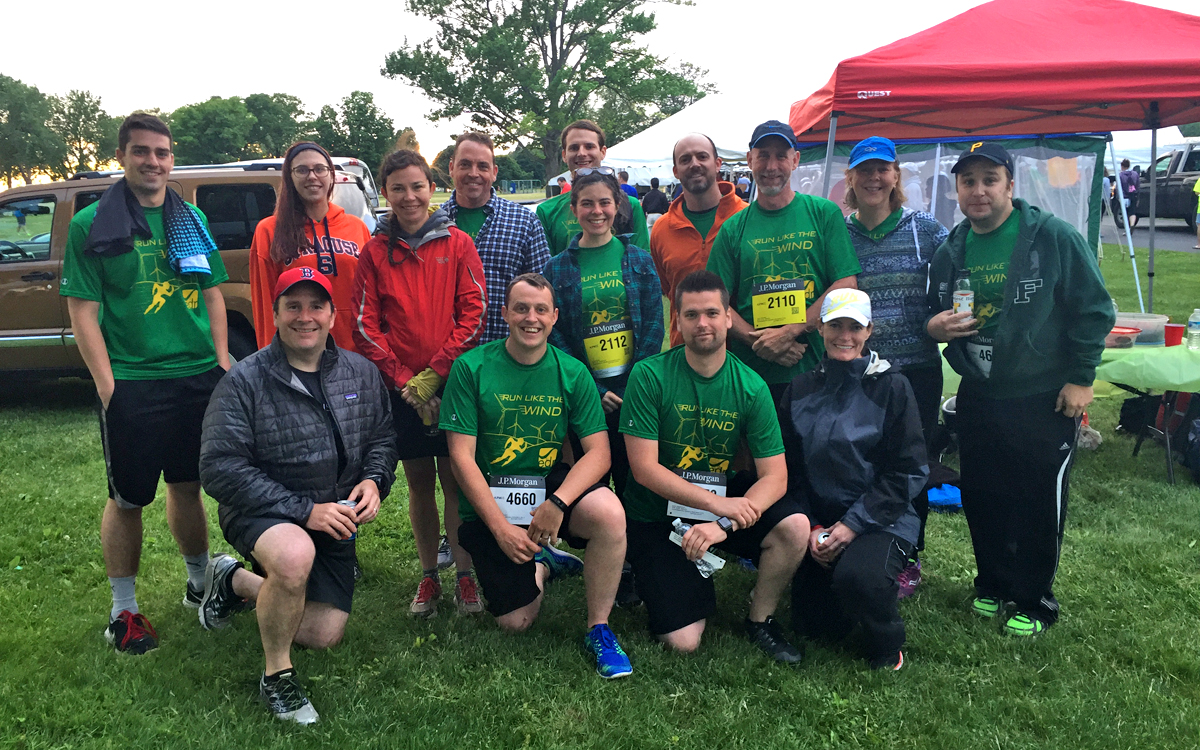 EDR fielded our biggest team to date for the 2016 J.P. Morgan Chase Corporate Challenge in Syracuse, NY.  Our team was part of the 7,862 runners and walkers from 280 companies (including EDR) that helped Syracuse stage its 34th Corporate Challenge.  The entrants contributed to a very important cause, Vera House, which works to end domestic and sexual violence and elder abuse.  Its services include counseling, advocacy, emergency shelter and education.
The day started with a boom as a brief but severe storm hit Onondaga Lake Park during tent set-up activities.  Greg and Caitlin got soaked but managed to save Jane's tent from blowing into the lake or parkway (many other tents were not so lucky!).  The event itself went off without a hitch, as participants were lucky to enjoy great running weather with cooler than average temperatures and a brisk refreshing headwind on the backstretch.
EDR's Elite Runners, Shufflers, and Walkers included:
1.    John "Dark Horse" Wojcikiewicz
2.    Ely "The Flash" Margolis
3.    Caitlin "The Captain" Graff
4.    John "New Knees" Hecklau
5.    Erica "Rollergirl" Tauzer
6.    Russ "Was That John Fishman?" Farchione
7.    Christy "Rochester Represent" Conley
8.    Greg "I'll Bring the Root Beer" Liberman
9.    Jacob "Where's My Bike" Runner
10.    Ben "The Last Time I Ran Was in 1992" Brazell
11.    Patrick "I Should Really Go Running More Often" Heaton
12.    Barry "Barracuda" Masterson
13.    Allison "I Think That Was John Fishman" Weatherbee
14.    Jane "I Love This T-Shirt" Rice
15.    Carin "Wildflower" Lefevre
16.    Dan "Nice Night for a Walk with Dara" Barbato
Team results are posted here on the JP Morgan Chase Corporate Challenge website.
Great job everyone!