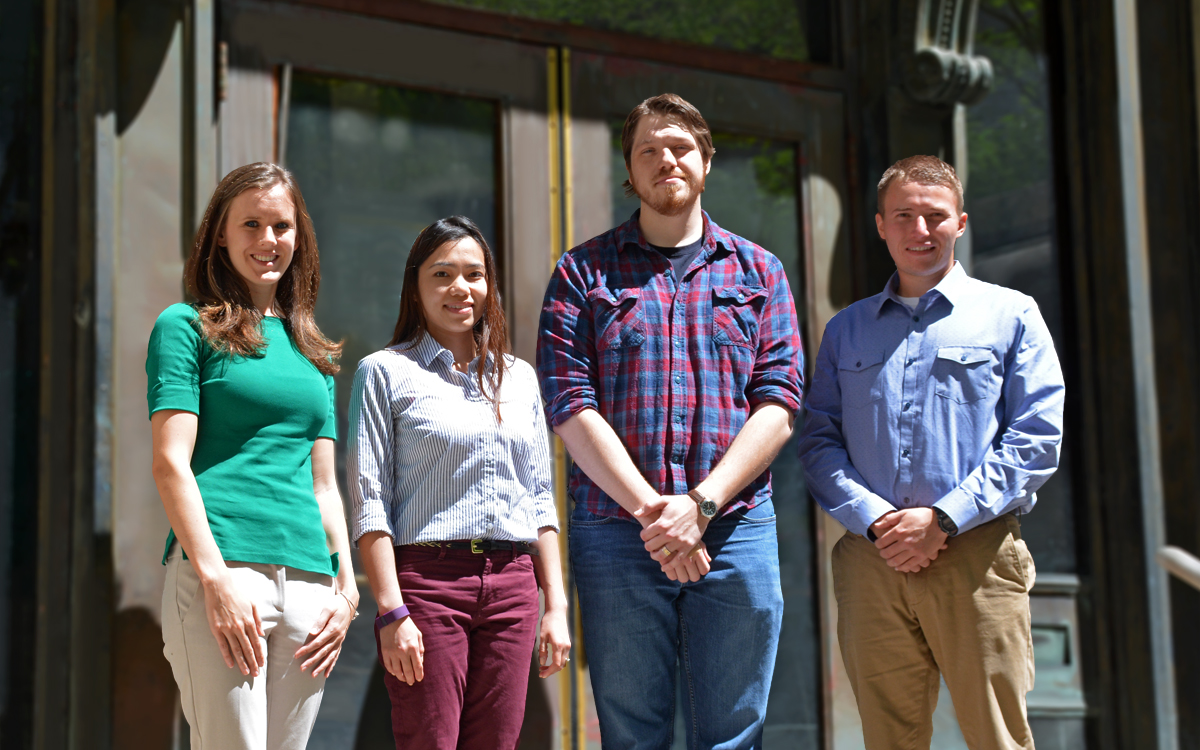 We are excited to welcome Lindsay Dressel, Kim Zhang, Jordon Loucks and Josh Kszystyniak (from left to right). They will be joining the EDR team at our Syracuse, NY office.
Lindsay Dressel has joined EDR's Environmental Division as an Environmental Analyst.  Lindsay comes to EDR with a background in science, including a B.S. in Biology from the State University of New York Geneseo, as well as a Masters of Science in Environmental Science and Biology from the College at Brockport State University of New York. She has previous experience as an environmental health manager, wet chemistry analyst and research assistant at SUNY Brockport. She also has extensive experience with State Environmental Quality Review (SEQR) and National Pollution Discharge Elimination Systems (NPDES) applications, water quality analyses and monitoring, development and calibration of a hydrologic model of the City of Rochester storm sewer system using PCSWMM – as well as ArcGIS technologies.
Kim Zhang has joined EDR as a Site Designer in our Planning and Site Design Studio. Kim is experienced in both landscape design and community planning with a Bachelor's Degree in Landscape Architecture from the State University of New York College of Environmental Science and Forestry. Prior to joining EDR, Kim served as a project coordinator for the New York Restoration Project, an Urban Forestry Community Coordinator for the Cornell Cooperative Extension Onondaga County and as a Landscape Designer for Keplinger Freeman Associates. She has wide-ranging experience in landscape architecture, community planning and design, design development, permitting, plant identification and use, as well as hand rendering, marketing and print development.
Jordon Loucks has joined EDR as a Cultural Resources Specialist / Project Archaeologist. Jordon is a Registered Professional Archaeologist (RPA) whose education background includes a B.A. in Anthropology from the Maxwell School at Syracuse University, a M.A. in Applied Archaeology from Indiana University of Pennsylvania and a Ph.D. in Anthropology expected in May 2017 from the University of Albany. Jordon's specialized coursework and prior experience includes archaeological field work and collections management through the New York State Museum Dissertation Fellowship, internships with the American Museum of Natural History Department of North American Archeology, and previous cultural research management experience including familiarity with Section 106 of the National Historic Preservation Act. Jordon is a member of both the Society for American Archaeology and the Society for Historical Archaeology.
Josh Kszystyniak has joined EDR's Environmental Division as an Environmental Analyst. Josh holds an Associates of Applied Science in Fire Protection Technology from Onondaga Community College and a B.S. in Natural Resource Management from the State University of New York College of Environmental Science and Forestry. His prior experience includes working as an account manager, foreman and heavy equipment operator for ProScapes Inc., as well as working as a environmental monitor for Crop Production Services which included assessing crop health, insect and disease conditions, monitoring pest infestations, weed growth and soil conditions in order to provide accurate recommendations.
Welcome to EDR Lindsay, Kim, Jordon and Josh, we're thrilled to have your skills and experience at our Syracuse, NY office!