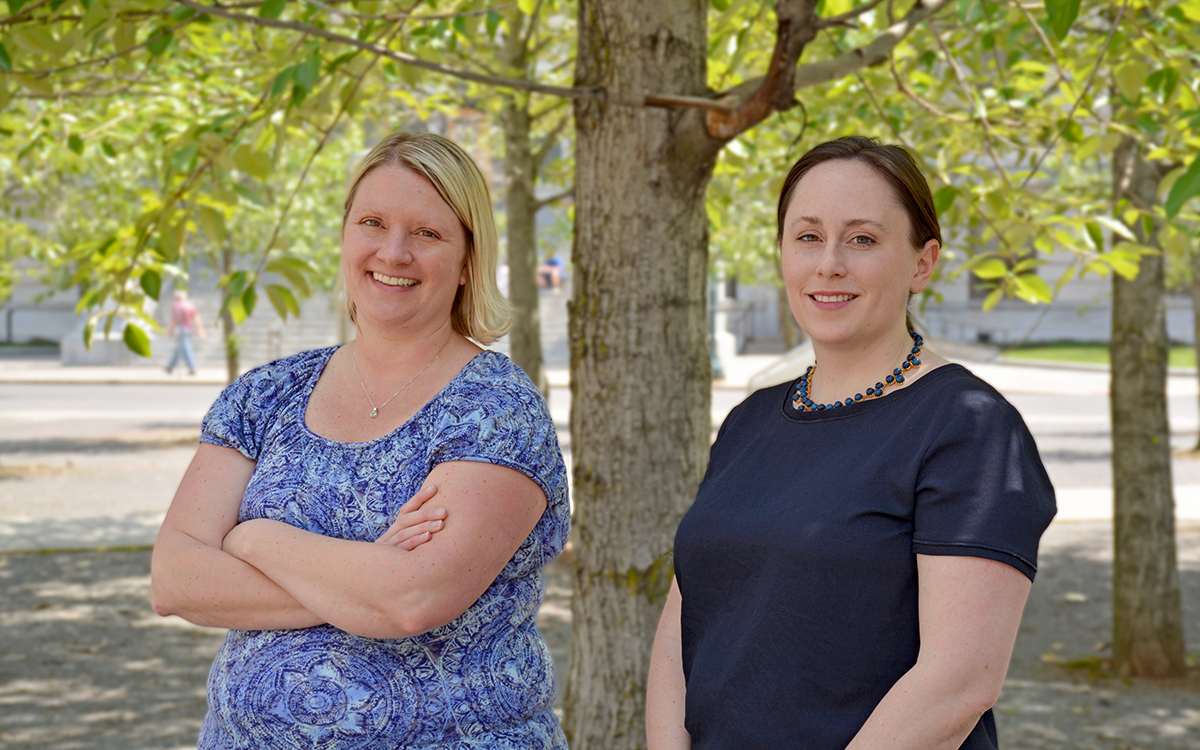 We are thrilled to welcome Meredithe Smith Mathias, AICP (left) and Mallory Squier-Babcock, Ph.D. Candidate, EIT (Right) to our thriving and bright team at EDR.
Meredithe Smith Mathias, AICP, joins EDR's Albany Office as an Environmental Project Manager. Meredithe is a certified planner and received her Masters of Regional Planning the State University of New York at Albany, and a Bachelor of Arts from Fordham University.  Early in her career, Meredithe's worked as a Planner for a LA Group in Saratoga Springs, NY.  More recently, she worked as a Project Manager for Pyramid Network Services, a leading development firm of wireless communication systems, in Glenmont, NY.  In this role, she supervised telecommunications radio projects from site selection through construction.  Working at Pyramid Network Services for almost 10 years, she was responsible for overseeing the regulatory and permitting processes, including local, county, state and federal (NEPA) permits, SEQRA, Adirondack Park Agency applications and State of Vermont Act 250 applications.
Mallory Squier-Babcock, Ph.D. Candidate, EIT, joins EDR's Syracuse Office as a Civil Engineer. Mallory is a certified Engineer in training and is expected to receive her Ph.D. in Environmental Engineering in August 2017, with a Certificate of Advanced Study in Sustainable Enterprise (CASSE) from Syracuse University, a Master of Science in Civil and Environmental Engineering from Carnegie Mellon University, and a Bachelor of Science in Environmental Systems Engineering, as well as a Bachelor of Science in Applied Spanish from Pennsylvania State University. Mallory's professional experience includes working as graduate research assistant at Syracuse University. In this role, Mallory was a founding member of the Davidson research group, designed and installed monitoring systems to measure the hydrologic and thermal performance of a 5600 m2 green roof, modeled hydrologic performance of green roof using a simple physically-based model adapted from SMR, and used regression analysis and other advanced methods to develop relationships between meteorological variables and hydrologic performance.
Welcome to EDR Mallory and Meredithe, we're excited to have you both on our team!