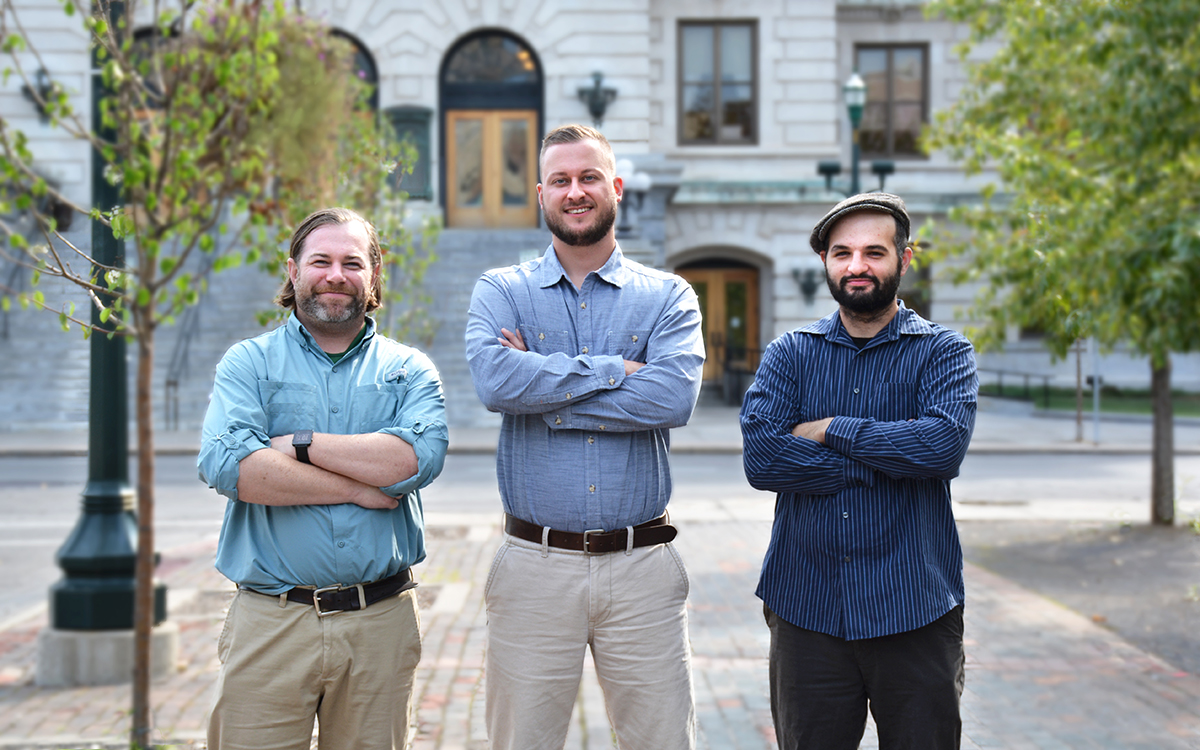 We are excited to welcome Matt Robinson (left), Mickey Kopansky (center), and Kyle Somerville (right) to our ever-growing and talented team at EDR.
Matthew Robinson recently joined EDR as a Project Manager in our Visualization Group.  Matt is coming to our firm from Landworks in Middlebury, VT, where he worked as an Environmental Planner, Associate Landscape Architect, and Project Manager since 2010, and before that between 2004 and 2007. In the interim, Matt received his Master's in Landscape Architecture from Cornell. While at Landworks, Matt worked on diverse projects that included visual impact and environmental impact assessments, visual simulations, public outreach and communication graphics, land use planning, signage and wayfinding, streetscape improvements, and site rehabilitation design for utility corridors.  Matt significantly reinforces EDR's existing expertise and capabilities in visualization and visual impact assessment.
Michael (Mickey) Kopansky, PWS, CAE has joined EDR as a Project Manager in the Environmental Group.  Mickey is originally from the Central New York area and has most recently been working with a company in Virginia as an Environmental Project Manager.  He is a Professional Wetland Scientist (PWS), Certified Associate Ecologist (CAE), Certified Arborist, and Certified Open Water Diver/Scuba Diver (which may come in handy for one of our off-shore or island-based projects!).  Mickey received his Master of Science from Towson University (concentration in forest/wildlife ecology) and his Bachelor of Science from Binghamton University.  He will strengthen our current practice areas and capabilities, as well as expanding our environmental consulting services to include acoustic bat surveys and freshwater mussel surveys.
Kyle Somerville has joined EDR as a Cultural Resources Specialist / Project Archaeologist. Kyle has most recently been working with a company in Rochester as a Principal Investigator where he served as the project director for Phases I-III archaeological surveys. Kyle also served as the curation liaison to local repositories for storing artifacts recovered during these surveys, and frequently engaged with the public during the course of fieldwork. Kyle earned his Ph.D. in Anthropology from the University at Buffalo, and his Master of Arts in Anthropology from the University of Pennsylvania in Philadelphia, and meets the Secretary of the Interior's Standards for Archaeology and Historic Preservation (per 36 CFR Part 61). In addition, Kyle is a member of the Town of Greece (Monroe County) Historic Preservation Commission.
Welcome to EDR Matt, Mickey, and Kyle, we're excited to have your skills and experience on our team!