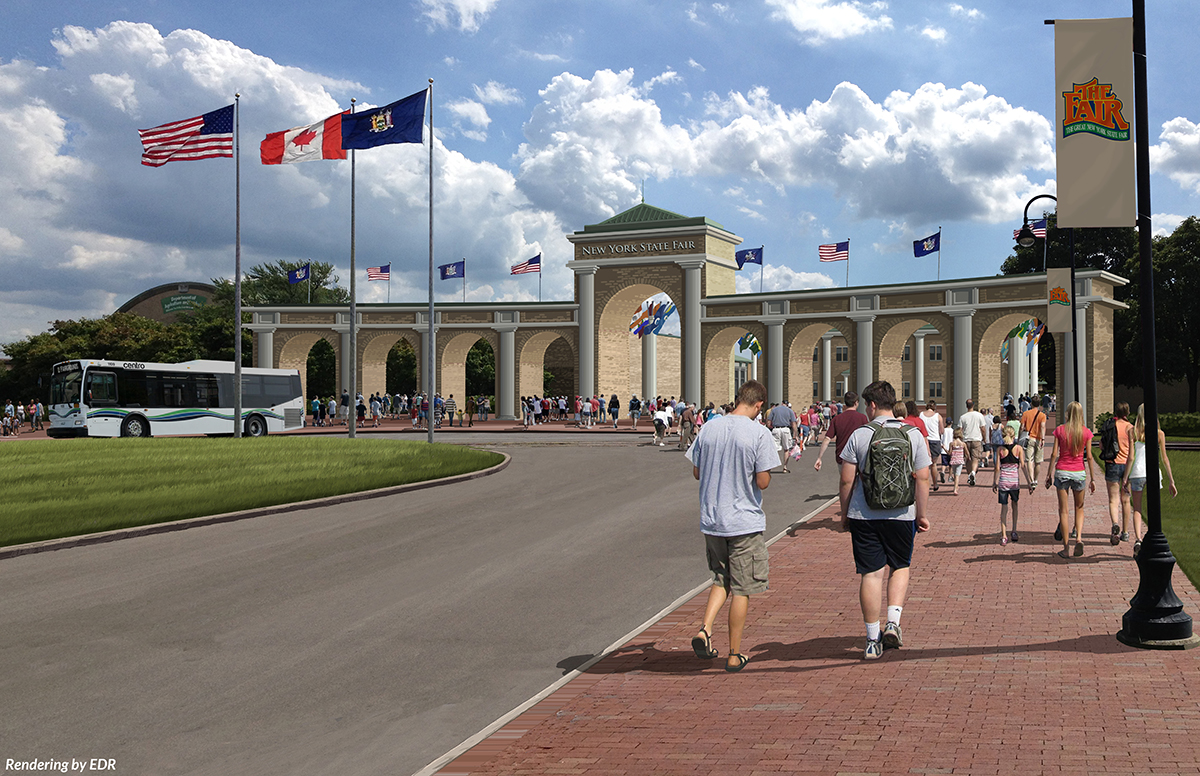 It's that time of year again! The fair is set to open tomorrow, August 25th, 2016, and as many of you may have read, the New York State Fair had a $50M makeover that transformed some of the main fair avenues and the midway. EDR was thrilled to take part in the planning and design of some of these renovations.
EDR worked closely with the MJ Engineering & Land Surveying Team on development of the New York State Fairgrounds Master Plan; as well as development of conceptual design and renderings for the Chevy Court and Main Gate. EDR also assisted the MJ Team on planning for the New York Experience, Midway, Chevy Court, and Main Gate; developing design standards for exterior building signage, parking lots, gates, streetscapes and overall wayfinding for the Fairgrounds; and documenting historic resources that were proposed for demolition or alteration.
In addition, EDR also collaborated with Haudenosaunee representatives to develop a new entry gateway design and an overall master plan to identify opportunities for renovation and aesthetic improvements to the Iroquois Indian Village, also located at the Fairgrounds. In this role, EDR clearly understood that it was imperative that the Village properly demonstrate the contribution of the Iroquois farmers and homemakers to the people of the State in days-gone-by, as well as, portray present-day progress in farming and homemaking among the 12,000 Haudenosaunee people living on seven reservations throughout the State. EDR also coordinated with Haudenosaunee representatives and scholars, to gain knowledge regarding heritage and research (including symbols and meanings) in order to incorporate culturally appropriate features and elements into the design.
Make sure to check out these improvements  and more, as you enjoy some traditional Pizze Fritte and a wine slushy (or two)!