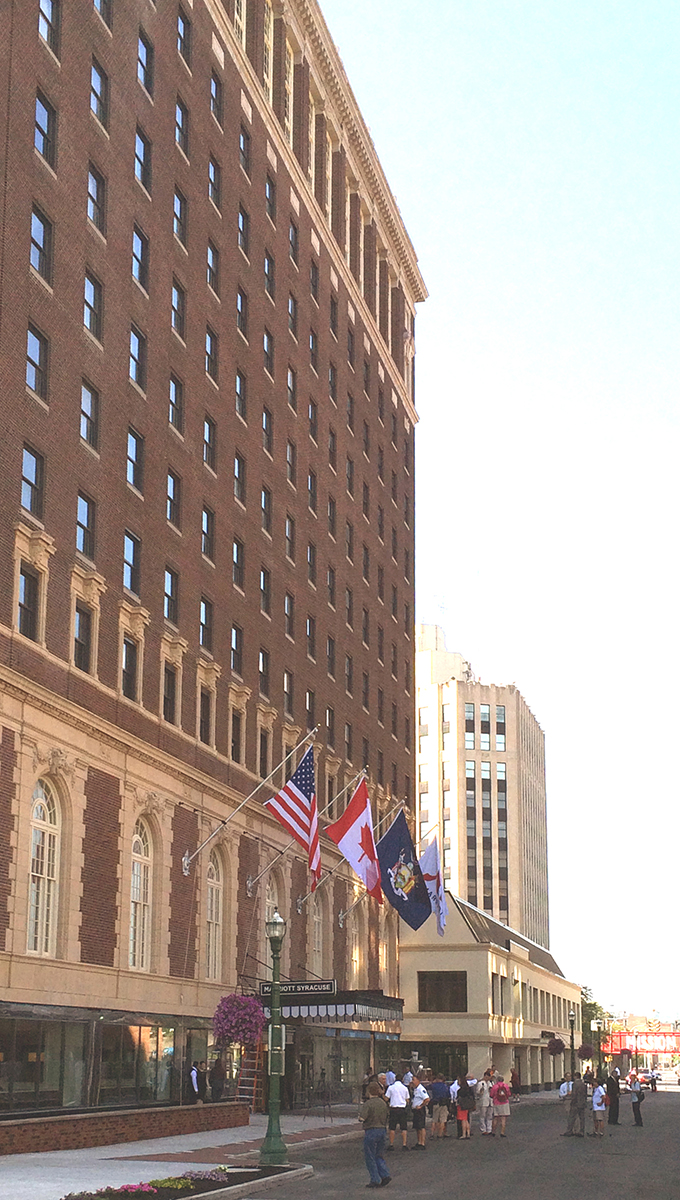 Today marks a beautiful beginning…Hotel Syracuse officially reopens to the public as the Marriott Syracuse Downtown. You may recall EDR was honored with a Preservation Association of Central New York (PACNY) award for our participation in this iconic restoration project (read more here).
EDR was responsible for creating connections from the historic Convention District to its signature hotel, the Marriott Syracuse Downtown, and to plan and design connections for the future. EDR landscape architects and cultural resource specialists worked closely with the developer, Ed Riley, to plan and design streetscapes and courtyard spaces that enhance connections and restore the historic grandeur of the Hotel. EDR understood the importance of pavers as a part of the City fabric, so it was vital to salvage and re-use existing pavers while incorporating new matching pavers.  At the primary entrance on Onondaga Street, EDR designed a paver layout that greets visitors at the front door to the Hotel with a streetscape that provides a sense of arrival before entering the lavish lobby.  We also developed a new pedestrian and vehicular circulation pattern, resulting in an ideal location for a drop-off area on South Warren Street. EDR worked closely with the City arborist and Mr. Riley to place more than 40 trees into the new streetscape. (However, due to the extreme heat and drought we have endured this Summer, trees cannot be planted until the Fall…so, hang tight!) But perhaps our most prominent work can be appreciated in the outdoor spaces that support some of the venues at the Hotel. For example, Joe Falco, a talented landscape architect and artist at EDR, designed an intimate outdoor dining area and a glorious fireplace that flawlessly complements the splendor of Eleven Waters, a fine-dining restaurant located on the first floor of the Hotel. EDR also designed an outdoor seating area at Shaughnessy's Irish Pub, on the corner of South Warren and Harrison Streets, where customers visiting the District "can see and be seen".
EDR is truly honored to be part of this transformative project and we look forward to celebrating its completion with a toast by the fire!
---
For More Information
Steve Breitzka, RLA | Senior Landscape Architect/Project Manager
[email protected]